What is it?
A weekday residential conference on September 23rd - 27th 2013
---
What is the theme?
Our foundational verses are Colossians 1:9-14, ... That you may walk worthy of the Lord ... and this conference is to examine the mindset of Jesus in examining the Church in its relationship to the World - looking at six main topics; The Church, Israel, The Cross, Christians, The Bible and Thinking! Our aim is for every delegate to be valued and encouraged. Foundations is different - it breaks the mould of Christian conferences.
---
Where is it?
Quinta Christian Centre, Quinta Hall, Weston Rhyn, Oswestry, Shropshire SY10 7LR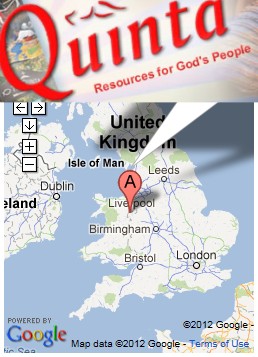 ---
How much is it?
200 pounds for full bed and board and all course notes. Concessions for individuals and small groups will be made available
---
How can I book my place?
Either phone us on 0208 551 1719 or DOWNLOAD THE INFORMATION PACK NOW AND COMPLETE A BOOKING FORM, THEN SEND IT TO US
ALTERNATIVELY YOU CAN PAY BY CREDIT/DEBIT CARD BY PHONING US ON 0208 551 1719 OR THROUGH THIS FORM:
To make a payment of 200 pounds per head for the Foundations 4 Conference.
PLEASE BEAR IN MIND THAT THERE IS ONLY LIMITED PLACES AVAILABLE, WITH MANY REBOOKING - SO CONTACT US SOONER RATHER THAN LATER!

(The payment will be processed by the secure WorldPAY system)
---
If you have any questions regarding this form (or anything else relevant) you may email us at steve@saltshakers.com or phone us up on 020 8551 1719
---
CONFERENCE PROGRAMME (subject to tweaking)

MONDAY:

2-5pm Arrival and registration
6:00pm Introduction
6:30pm Supper
8:00pm Sharing/worship/prayers
10:00pm Tea/Coffee

TUESDAY - THURSDAY

7:00am Prayers
8:00am Breakfast
9:30am Worship/MainTeaching
10:30am Tea/Coffee
11:00am Small groups
11:30am Teaching
12:30pm Lunch
1:45pm Teaching
2:30pm Free time (also tea/coffee) – walks, tennis, scrabble etc.
5:00pm Workshops
6:00pm Supper
7:30pm Worship/Main Teaching
8:15pm Small groups
9:00pm Teaching
10:00pm Tea/Coffee


FRIDAY

7:00am Prayers
8:00am Breakfast
9:30am Sharing/worship/prayers
10:30am Tea/Coffee
11:00am Sharing/worship/prayers
12:30pm Lunch
1:00pm Finish
PAST CONFERENCES
The official promo for our first Saffron Planet Foundations conference held at Quinta Christian Centre on January 6-8th 2012
LATEST NEWS
There's a lot going on in the Church today that is cringe-worthy - the reaction to same-sex marriage and the Wonga saga for example - though it's not just the C of E, but the wider church in all of its manifestations that is getting so much wrong.

Has the Church sold out to the World? If this concerns you, then why not meet up with like-minded Christians at Foundations 4?

We intend to build up a collaborative, sharing atmosphere at Quinta. There will be the central teaching of six (short) talks by me, based on my new book "The Bishop's New Clothes", but we intend another nine short talks, on a variety of topics, from seven invited speakers. Topics include: sanctity of life, inside the U.N., the family, Alexander the Great, Psalm 23, living Scripture, Yad Vashem, the legitimacy of Israel, Rebel Church.

The heart of Foundations is this; restoring God to the centre of the Church and we see this conference as just the start of the process. The core of the conference will be these six topics:
---
CHURCH: 'Cinderella Church' – who is the Church today?

CHRISTIANS: 'Onwards Christian shirkers' – what do we do about the laity!?


THINKING: 'Was Jesus gay?' – how do we process information?

EVALUATING: 'Was Jesus goy?' – what is truth?


BIBLE: 'Those First twelve Chapters' – how we need to get those foundations right

ISRAEL: 'For whatever reason' – the Church's attitude to the Jews
---
There will be opportunities just to listen and meditate, or to contribute, to interact, to learn from each other. This could be in the teaching or small group sessions, or it could be on an organised walk in the Welsh countryside, or over a game of scrabble or a cup of tea.

We will also organise optional workshops. Then, of course, is the wonderful God-soaked worship, led by Jo.

If you are unsure whether to come to this conference, please pray, because we have every expectation that this will be life-changing for all of us. If money is a problem, there are still some concessions available.

For this reason we also, since the day we heard it, do not cease to pray for you, and to ask that you may be filled with the knowledge of His will in all wisdom and spiritual understanding; that you may walk worthy of the Lord, fully pleasing Him, being fruitful in every good work and increasing in the knowledge of God; (Colossians 1:9-10)

It is our belief that the only way the Church is really going to understand the Israel situation, is to take them through a journey of discovery, (where we provide the ammunition and the Holy Spirit provides the conviction), rather than shout at them from the destination. It is time for education, not conflict (or even debate). If the Lord sends us people, we will do our best to educate them.

We also believe that Foundations 4 is just the start. We already have systems and plans in place to make this vision one that we can all take part in all year round and grow as a group of Christians who really want to see God restored to His rightful place at the heart of the Church.

We would love to see you there in September at Quinta. If you have any questions at all, then please email steve@saltshakers.com or phone us on 0208 551 1719.

Many blessings

Steve & Monica & the Foundations Team
Some reviews of Foundations by delegates:
"The Spirit of God was so evident in the people during times of fellowship and during the teaching and more formal moments. A deep and lasting work of the Spirit was achieved in people's lives as they opened up to God in their different ways ... I just wonder and sense that God is doing the most precious thing through these people and the work of the conferences they organise, for us to grow and know more of God. One man at this year's conference said to me, 'You talk to strangers, people you have never met before, and it is like talking to someone you have known for years.' If you want things to change in this nation, consider attending next year's conference."

"Just wanted to say a GREAT BIG thanks you both for a brilliant conference! You have all worked SO hard to give us all a wonderful feast of knowledge and information and so much more! It was so full of variety and thought-provoking stuff! What wonderful value for money!! Bless you both"

"Great job with the conference, really great job. Hope you know how good it was and that you're feeling encouraged."

" ... the very important pioneering role that has been made to getting the conference off the ground in the first place. What I liked most was the opportunity to meet with like minded people and especially their desire to impart what they had learned to others. Learning about the other ministries was also helpful and inspiring ... overall I was really encouraged by the desire to put into practice what we have learned through reaching out to the Christian constituency as well"

"Thank you so much for the great conference ....& the 'team' too. Hope you're all recovering well. Very good:- teaching, organisation & opportunity to network (some 'divine connections' maybe?). Jo's worship workshop was excellent & the twins worship too. Lovely to hear peoples testimonies. A good venue & nice food."

"What an amazing week. There surely must be rejoicing in heaven. Thank you so much for all your hard work and vision."

"A big THANK YOU for all your efforts, hopefully completed now! You did really well. Looking back, it was all worthwhile for us."

"A brief note to thank you for all you did organizing the conference. We really enjoyed it ... especially, Steve's teaching sessions. We also enjoyed meeting your father in the small group sessions, and we were delighted to hear him say he had enjoyed the week too. we will continue to pray for him."

"I would like to say a big thankyou to Steve & Monica and Philip and also to Ray Thurley for all your hard work and servant hearts"

"Thank you very much. Be very blessed. Very good conference"

"All in all I am very aware of the heroic efforts of a small team to get this conference off the ground. I feel the results will roll out for quite some time and God will use it in many ways"

"Brilliant. What a good job you've done, Steve & Monica. Such variety and something for everyone. May the Lord continue to bless you in your ministry"

"Thanks for all you did. It was appreciated"

"There seemed to be a real effort to make the week a success for all with everyone on the team working hard to achieve this. We think the team achieved this objective"

"On the whole I enjoyed the conference. It was good to be with like-minded people and encouraging to see different age groups attending"

"Thank you Steve, Monica and team for a wonderful time of drawing closer to the Lord. The Lord bless you and keep you"

"You are doing a wonderful work in a wonderful way. God has raised you and your ministry for such a time ... It is my belief that you are preparing us to face tough times ..."

"As said at the first conference, one feels God is doing something very special and eternal through your work and conference"

"I want to express my deep appreciation of all that the very small team have done to produce such an excellent conference. Steve and Monica especially for your kindness - thank you all those who worked so hard. Showed real care and a servant spirit"

"Thank you Monica and Steve and team for your hard work providing such a wonderful week. It was a real privilege to meet you and your family and to be truly 'church'"

"I shall never forget your untiring service and work to enable God's people to learn, hear and see so much in a short time - all bathed in an atmosphere of love. Inspiring!"

"We appreciated all the hard work of Steve, Monica and the team"

"Brilliant time. Thank you for all your hard work"

"Dear Monica and Steve, a very big thank-you for the conference. It has given me even more encouragement to stand up for Judaeo-Christian values. I found Chris Hill's exposition very good indeed."
Foundations Ministry or Movement?
By Malcolm E Baker
I have written about the Foundations conferences before, and feel I should do so again now. It is something the Lord has brought me back to again to emphasise the importance of what He is doing through this work and it is to encourage you that God is working in our nation, but perhaps not in the way we expected. Normally one would expect a fiery, charismatic kind of minister and ministry that would grab people's imaginations to take them on into the deeper things of God. There would be preaching on miracles and healing. There would be an emphasis on music and extended sessions of worship.

What God appears to be doing, if I am correct, is something completely different. The Lord is using someone that writes books. He wrote a book about a people; he wrote a book about a land. His latest book is about a language. He has also written books about the Church. Not quite the power ministry you or I would choose to bring about change in the spiritual atmosphere of our nation.

Something else is different about God's choice of minister. He has chosen a Messianic Jew. Which of us in the UK would think of doing such a thing? Much of the world has problems with the fact that our Lord was and is a Jew. Isn't God compounding that problem? God is God and He can choose the Jews in any generation or place He wants – I guess. I have to mention this; I can't go on without saying it. Those who claim Jesus was a Palestinian, and those Palestinians that claim Jesus was a Palestinian – If the Palestinians really had been God's chosen people and not the Jews, the world would hate the Palestinians today in the same way it hates the Jews. They would have suffered the holocaust. They would have been persecuted throughout the centuries. Get real!

Let's get back to our main point. I have commended and am commending the 'Foundations' ministry to you for serious reasons. It is not just so that you can go and have a good time or mix with 'like-minded' people. That is just part of the experience. There are a number of ministries in the UK that support Israel and the Jews offering excellent teaching and resources, and are doing an excellent, God ordained work. So what is different about foundations? I would suggest there are a number of differences. Firstly the Founder is a Messianic Jew with God's anointing. He and his wife are anointed for purpose. Secondly, and importantly, Foundations is a ministry that could quite easily turn into a movement. It could turn into a movement of spiritual change for the Church in the UK. For this reason I would encourage every believer in Jesus, who loves Israel and the Jews and has understanding of God's End-Time purposes in bringing the Jews back into the land – and people that are beginning to open up to the Hebraic understanding of Scripture – even though you support the other Messianic ministries, I encourage you to get behind and support 'Foundations.'

Some, many supporters of Israel will have given sacrificially in time and finance over many years. I encourage you, now is not the time to give up. Christmas is almost upon us and there are presents to buy and to give. Then there are next year's holidays. Give thought to using some of your resources of both time and finance to join others at Quinta in March next year. It is important.

There is a danger in loving Israel and the Jews and going to meetings and buying the books and tapes and DVDs on Hebraic Roots teaching. There is a danger in every ministry. The danger is we are doing it for ourselves. With the ministry of 'Foundations', God is providing us with the opportunity to expand beyond our normal borders. At the moment we are on a mountain looking across the nation as far as the eye can see. Being part of a movement can take us physically and spiritually into that land affecting the peoples, affecting and bringing change to the Church. As individuals we have some affect, but as part of a movement that effect is compounded over and over. It does not mean you stop supporting the ministries you have been involved with over the years, or the churches you belong to. Indeed, it is important you continue to support them. My suggestion is that to be at our most effective, we should also get behind and support and be involved with the Foundation ministry and team. Go to the Lord about it. God is bringing change. He is working in hearts and minds. Now He is calling us to new challenges to be part of what He is doing.