What is it?
A weekday residential conference on September 23rd - 27th 2013
---
What is the theme?
Our foundational verses are Colossians 1:9-14, ... That you may walk worthy of the Lord ... and this conference is to examine the mindset of Jesus in a whole range of areas of our life and thinking, from family, to the Bible, to work and the Church in its relationship to the World. Our aim is for every delegate to be valued and encouraged. Foundations is different - it breaks the mould of Christian conferences.
---
Where is it?
Quinta Christian Centre, Quinta Hall, Weston Rhyn, Oswestry, Shropshire SY10 7LR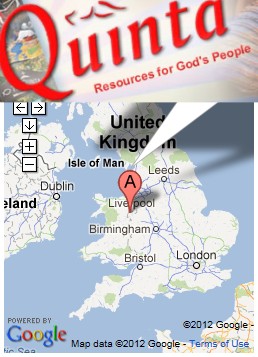 ---
How much is it?
200 pounds for full bed and board and all course notes. Concessions for individuals and small groups will be made available
---
How can I book my place?
Either phone us on 0208 551 1719 or DOWNLOAD THE INFORMATION PACK NOW AND COMPLETE A BOOKING FORM, THEN SEND IT TO US
ALTERNATIVELY YOU CAN PAY BY CREDIT/DEBIT CARD BY PHONING US ON 0208 551 1719 OR THROUGH THIS FORM:
To make a deposit payment of 50 pounds per head for the Foundations 4 Conference.
PLEASE BEAR IN MIND THAT THERE IS ONLY LIMITED PLACES AVAILABLE, WITH MANY REBOOKING - SO CONTACT US SOONER RATHER THAN LATER!

(The payment will be processed by the secure WorldPAY system)
---
If you have any questions regarding this form (or anything else relevant) you may email us at steve@saltshakers.com or phone us up on 020 8551 1719
---
CONFERENCE PROGRAMME (subject to tweaking)

MONDAY:

2-5pm Arrival and registration
6:00pm Introduction
6:30pm Supper
8:00pm Sharing/worship/prayers
10:00pm Tea/Coffee

TUESDAY - THURSDAY

7am Prayers
8am Breakfast
9:30am Teaching
10:30am Tea/Coffee
11:15am Small groups
12:30pm Lunch
1:45pm Workshops
2:45pm Free time (also tea/coffee) – walks, tennis, scrabble etc.
5:00pm Workshops
6pm Supper
7:30pm Worship/Teaching
9:00pm Small groups
10:00pm Tea/Coffee


FRIDAY

7am Prayers
8am Breakfast
9:30am Sharing/worship/prayers
10:30am Tea/Coffee
11:00am Sharing/worship/prayers
12:30pm Lunch
1:00pm Finish
PAST CONFERENCES
The official promo for our first Saffron Planet Foundations conference held at Quinta Christian Centre on January 6-8th 2012
Some reviews of Foundations by delegates:
"The Spirit of God was so evident in the people during times of fellowship and during the teaching and more formal moments. A deep and lasting work of the Spirit was achieved in people's lives as they opened up to God in their different ways ... I just wonder and sense that God is doing the most precious thing through these people and the work of the conferences they organise, for us to grow and know more of God. One man at this year's conference said to me, 'You talk to strangers, people you have never met before, and it is like talking to someone you have known for years.' If you want things to change in this nation, consider attending next year's conference."

"Just wanted to say a GREAT BIG thanks you both for a brilliant conference! You have all worked SO hard to give us all a wonderful feast of knowledge and information and so much more! It was so full of variety and thought-provoking stuff! What wonderful value for money!! Bless you both"

"Great job with the conference, really great job. Hope you know how good it was and that you're feeling encouraged."

" ... the very important pioneering role that has been made to getting the conference off the ground in the first place. What I liked most was the opportunity to meet with like minded people and especially their desire to impart what they had learned to others. Learning about the other ministries was also helpful and inspiring ... overall I was really encouraged by the desire to put into practice what we have learned through reaching out to the Christian constituency as well"

"Thank you so much for the great conference ....& the 'team' too. Hope you're all recovering well. Very good:- teaching, organisation & opportunity to network (some 'divine connections' maybe?). Jo's worship workshop was excellent & the twins worship too. Lovely to hear peoples testimonies. A good venue & nice food."

"What an amazing week. There surely must be rejoicing in heaven. Thank you so much for all your hard work and vision."

"A big THANK YOU for all your efforts, hopefully completed now! You did really well. Looking back, it was all worthwhile for us."

"A brief note to thank you for all you did organizing the conference. We really enjoyed it ... especially, Steve's teaching sessions. We also enjoyed meeting your father in the small group sessions, and we were delighted to hear him say he had enjoyed the week too. we will continue to pray for him."

"I would like to say a big thankyou to Steve & Monica and Philip and also to Ray Thurley for all your hard work and servant hearts"

"Thank you very much. Be very blessed. Very good conference"

"All in all I am very aware of the heroic efforts of a small team to get this conference off the ground. I feel the results will roll out for quite some time and God will use it in many ways"

"Brilliant. What a good job you've done, Steve & Monica. Such variety and something for everyone. May the Lord continue to bless you in your ministry"

"Thanks for all you did. It was appreciated"

"There seemed to be a real effort to make the week a success for all with everyone on the team working hard to achieve this. We think the team achieved this objective"

"On the whole I enjoyed the conference. It was good to be with like-minded people and encouraging to see different age groups attending"

"Thank you Steve, Monica and team for a wonderful time of drawing closer to the Lord. The Lord bless you and keep you"

"You are doing a wonderful work in a wonderful way. God has raised you and your ministry for such a time ... It is my belief that you are preparing us to face tough times ..."

"As said at the first conference, one feels God is doing something very special and eternal through your work and conference"

"I want to express my deep appreciation of all that the very small team have done to produce such an excellent conference. Steve and Monica especially for your kindness - thank you all those who worked so hard. Showed real care and a servant spirit"

"Thank you Monica and Steve and team for your hard work providing such a wonderful week. It was a real privilege to meet you and your family and to be truly 'church'"

"I shall never forget your untiring service and work to enable God's people to learn, hear and see so much in a short time - all bathed in an atmosphere of love. Inspiring!"

"We appreciated all the hard work of Steve, Monica and the team"

"Brilliant time. Thank you for all your hard work"

"Dear Monica and Steve, a very big thank-you for the conference. It has given me even more encouragement to stand up for Judaeo-Christian values. I found Chris Hill's exposition very good indeed."